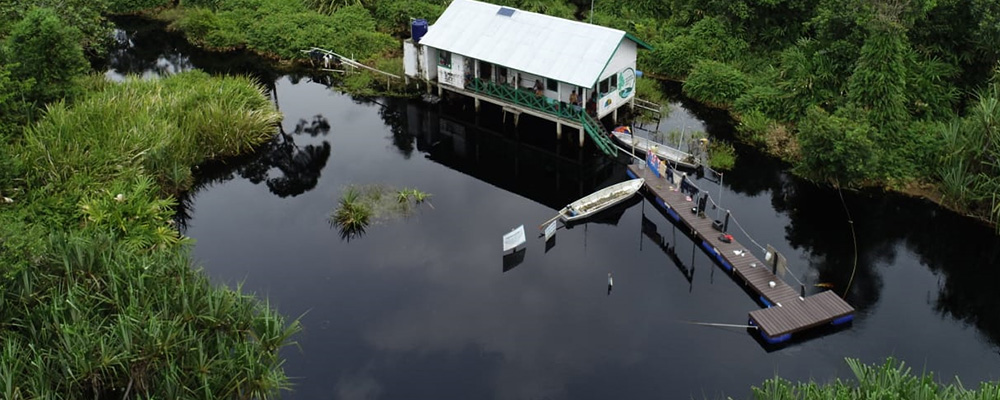 Plaswood used in Sumatran Rainforest
Plaswood Provides Building Solution for Rainforest Restoration Project
Specialist plastic lumber from Plaswood, a brand of Berry Global, is proving to be an ideal building material for a major ecosystem restoration programme in Indonesia.
Restorasi Ekosistem Riau (RER) comprises 150,693 ha of peat swamp forest, situated in two landscapes on Sumatra's eastern coastline. Operating under five ecosystem restoration concessions (ERCs) issued by the Indonesian government for a 60-year period, the RER restoration area is about the size of London. The purpose of an ERC is to restore a degraded forest to a balanced condition, and to ensure that
it can provide ecosystem services such as water storage and supply, carbon storage, fisheries and non-timber forest products.
Plaswood lumber, which is made from recycled plastic, is being used in the construction of pontoons, jetties, bridges and platforms. These will allow the research and conservation teams access to the remotest areas of RER, which comprise degraded tropical peat swamp forest on the Kampar Peninsula and Padang Island in Riau Province, Sumatra.
Plaswood is a particularly suitable building solution for the wet and swampy environments of a tropical rainforest. The material's waterproof properties and longevity mean that it will not rot or degrade once the structures have been built. As a result, there will be no need to disturb the surrounding forest again to replace decaying wood materials as would be the case if traditional timber had been selected.
In their initial application, Plaswood building materials and signage were used at small, specialised locations around the restoration site, specifically in the wettest areas where solid wood tends to rot rather quickly. Applications included floating platforms, bridges and dock ramps on the Serkap River in Sumatra.
Brad Sanders, Operation Head at Restorasi Ekosistem Riau said: "Plaswood has proven itself very well in that it remains strong, un-weathered, and essentially unnoticed by visitors as being plastic; indeed, they are quite surprised to learn it is recycled plastic."
The next phase of the project involving Plaswood will be the construction of elevated platforms in remote areas to provide outposts for safari tents and research camps.
"This is a very important and ambitious project, and one of which we are all proud to be part," commented Katherine Lorek-Wallace, General Manager at Plaswood.
"Considering the scope of the challenge and the scale of the task of restoring and protecting this unique landscape, the use of Plaswood sustainable building materials that are long-lasting, durable and safe for the rainforest environment is a logical choice. Unlike timber, Plaswood will not rot and deteriorate with time, which means that this diverse ecosystem will not need to be disturbed again to carry out
replacement and maintenance works."
To learn more about the project visit https://www.rekoforest.org/