Plaswood (part of RPC bpi recycled products) is proud to have won a prestigious Horners Award for Plastic Innovation and Design. Winning one of only two highly commended positions, the award is in recognition of its lock gates made from Plaswood.
Mike Baxter, External Affairs Director at RPC bpi recycled products said: "We are very proud to have our environmental commitments and product innovation formally recognised by the recent award win. As a business we take our green credentials, our dedication to sustainability and the circular economy very seriously. I hope our Horners Award win will encourage specifiers and architects to think about Plaswood as an eco-friendly alternative to traditional non-renewable materials such as wood, concrete or steel."
Manufactured in the UK from 100% recycled plastic, Plaswood is a leading brand producing Plaswood lumber and construction materials that provide structural and practical solutions to environments exposed to the elements. Demand for Plaswood has hit an all-time high in many sectors, especially outdoor construction. Plaswood is 100% water resistant and doesn't wear, rust or degrade with age. It is maintenance free once installed and its long-life qualities are a key ingredient for the successful construction of lock gates, board walks, revetment walls, fencing and pathways, to name a few.
Launched in 1947 the Horners Award for Plastic Innovation and Design is one of the longest established Design Awards for Plastics in the world. The annual award is run jointly by the British Plastics Federation (BPF) and the Worshipful Company of Horners. The award recognises significant innovation in design, environmental advantages and a demonstrated commercial potential.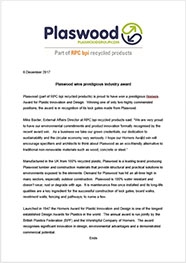 Download the Plaswood wins prestigious industry award Document