Environmental charity Hubbub has launched the world's first boat made from 99% recycled plastic at Docklands Sailing and Watersports Centre in London.
Built to raise awareness of the growing levels of plastic pollution on Britain's waterways, 'Poly-Mer' will be used to collect clear plastic litter from the Docks.
Recyclable material collected will be used to build more boats, creating a litter-busting fleet of boats.
Environment Minister Thérèse Coffey MP boarded the boat for its maiden voyage, along with school children from nearby Canary Wharf College, and medal-winning British Paralympic sailor Alexandra Rickham.
It is made from 'Plaswood', a hybrid composite material made from single-use plastic and wood, making it cost-effective.
Poly-mer will continue to be used by the children of the Canary Wharf College and will be accessible to members of the public and businesses interested in taking part in plastic fishing trips.
Trewin Restorick, chief executive and co-founder of Hubbub, said: "We built the 'Poly-Mer' to turn part of the problem into a solution and hope it will raise awareness that everyone can play their part to tackle plastic litter closer to home before it travels out to the ocean.
"We'd love to hear from people in other areas of the UK who are interested in getting involved with plastic fishing as we expand the fleet."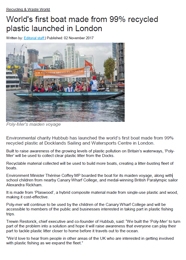 Download the World's first boat made from 99% recycled plastic launched in London Datasheet